Hello there, Friday-ers!
Some of you may know that I sell the charm bracelet from my book CIRCLE OF SECRETS on my website. Here are a cou

ple of pictures: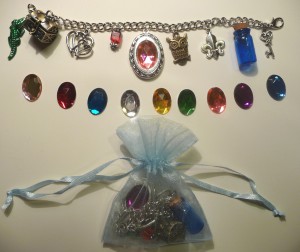 This is a replica of the mysterious charm bracelet that Shelby Jayne, my main character, finds hidden behind an antique wardrobe when she's forced to go live with her mamma in the bayou.
Before the book came out, I tho

ught how fun it would be to create the actual

bracelet

from the story. I

t was a challenge finding charms that matched the cha

rms I "made up" for

the story, but it was a lot of fun to see it come to life. Now

I

get orders from kids and Moms and Grandmas and Aunts - and even a couple of Dads have bought bracelets for their daughters - GO DAD!
This last week I put together a bracelet for a woman's daughter (many buy them as b-day gifts or as a surprise) and I received a beautiful, poignant letter that overwhelmed me. I can't stop thinking about it, and about the power of books in *my* life, and the power that writing is, too

.

I've changed the names in the letter for privacy.
Dear Mrs. Little:
Jessica would like the purple stone (good choice I told her! ;-)) for the locket.
I have to thank you for writing your book. My daughter Anna has dyslexia and has never taken interest in any book before. She was so excited while reading your book. While reading, she would run tell me what was happening. Now she is rereading the book to me out loud. Again, thanks so much.
Leslie B.
When I wrote her back, I found it difficult to find the right words to express how much it honored and humbled me - a well as made me cry. What a gift - given on both ends. I'm so proud and thrilled to have been a part of Jessica's and her mother's life.
A thousand thank you's to all my readers. A thousand thank you's to all the Mom's and Dad's out there. Keep up the good work!
Happy Weekend!
xo,
Kimberley